On my never ending list of things to do is to specify the sockets for the house. Michael my electrician has made up this kind of sample board
(see my pic below)
which shows my room thermostats for the underfloor heating controls (there is one in EVERY room) and the
QBUS
switches for my lighting control system, along with a couple of samples of sockets.
The room thermostats and the
QBUS
switches come in a brushed steel "
effect
" finish and are both rather similar in appearance, so am searching for sockets with a brushed chrome or stainless steel finish and preferably 'screwless'.
Does anyone else out there think sockets are just damn ugly? does anyone else even care?.....
(note to self "
get out more"!
)
Anyway the best of the bunch so far for me are also the most expensive (
isn't that always the way?
) and are not shown on the sample board, they are from the
GET Ultimate Range
and have the winning combination of being both screwless & flatplate.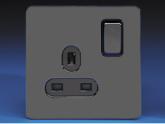 PROBABLY THE MOST BORING SHOPPING LIST IN THE WORLD.....EVER!!!
80 X Twin switched socket

12 X Single switched socket

10 X 2 mod tv point

10 X 1 mod rj 45 data point

8 X 2 mod rj 45 data point

5 X 2 gang shaver socket

10 X 4 gang face plate

10 X 4 gang module grid

40 X Rj 45 module insert

19 X 5 amp lamp socket

10 X Switched spur c/w neon ( or not )

3 X 45 amp connection unit

4 X external socket ( c/w timer should client prefer )

5 X speaker connection plate

1 X central speaker community faceplate (1 no. 5 way )

16 X 2 gang faceplate c/w retractable or removable door*

*
this fixture should allow items such as scart leads to be inserted and removed via a flush trunking.
I've emailed this list off to a few suppliers over the weekend, so hopefully should start to get some quotes back tomorrow (
and
hopefully
within my budget...?!!
)